KENNESAW, Ga. |
Sep 12, 2022
Kennesaw State students are taking what they learn from faculty in the Robin and Doug Shore Entrepreneurship and Innovation Center and investment from the Mookerji Innovation Fund to create tech and engineering projects, develop software ideas and launch businesses
that solve consumer problems.
The Shores, who are longtime KSU supporters, established the entrepreneurship center
in the Michael J. Coles College of Business with a major gift in 2016. Since then, the couple and center faculty have continued
to work to expand its scope.
"We're seeing some exciting and innovative ideas from students and alumni, and it's making it possible for them to pursue their passions, become their own bosses and ultimately become business owners," said Greg Quinet, executive director of the Center. "What's exciting is that these ideas are not just coming from our business and entrepreneurship students."
With help from the Mookerji Innovation Fund, an incubator funded by donations from
technology entrepreneurs Sid and Sophie Mookerji to bolster the work of the entrepreneurship
center and its faculty, students can acquire capital, contract work or other early-stage
business needs to get their start-ups off the ground. The Mookerjis established the fund in 2020 and recently contributed $600,000 to make more grants available to student and alumni
projects in the coming years.
Students and recent graduates can apply for grants from the Mookerji Innovation Fund
for their start-up business or product idea in amounts ranging from $5,000 to $20,000.
The businesses started by students and alums so far have ranged from cutting-edge
technology to consumer product development.
Training by playing
Brannan Vitek grew up in Gainesville, Ga., known as the "Poultry Capital of the World." Meatpacking is the major industry there, but it wasn't something he had an interest in.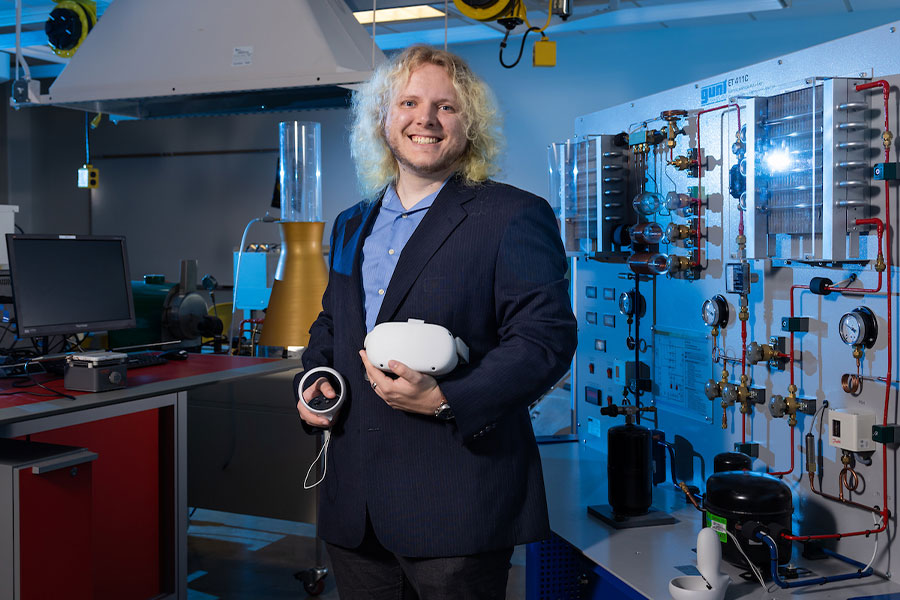 At Kennesaw State, Vitek ('20) studied game design and hoped to one day work for a video game development company, never thinking gaming had a role to play in poultry plants. After taking Quinet's Entrepreneurial Mind course in 2019, starting a business seemed so achievable that Vitek looked for ways he could turn his game-design passion into a business.
Today, Vitek leads Apex Innovations, a company that created a virtual reality game to introduce students at Lanier Technical College in Gainesville to the basics of ammonia refrigeration system operation and maintenance, the type used in the area's poultry processing plants. Students learn the basics of the refrigeration systems virtually through the game before they advance into hands-on training with working models.
"The Entrepreneurial Mind course changed my path from solely a programmer to an entrepreneur," Vitek said. "The class broke down the process for starting a business and showed me how I could do it without any debt, and how to choose a market."
Vitek's team initially received a $2,500 grant and to date has received $7,500 in startup funding.
"The Mookerji grant went to software licenses and paychecks. We had bought our virtual reality headsets and started programming beforehand, so having the additional cash was a boost to our peace of mind during the seven-month development time of the ammonia game," Vitek said. 
In addition to its contract with Lanier Technical College for refrigeration training,
Vitek said his team is also developing virtual reality hazardous materials training,
forklift and heavy machinery training for the college.
Entering a growing market
Sean Feeser, a 2020 KSU graduate, had a similar experience to Vitek in his entrepreneurship journey. Feeser said he expected to land a programming job after school with no plans to run his own business.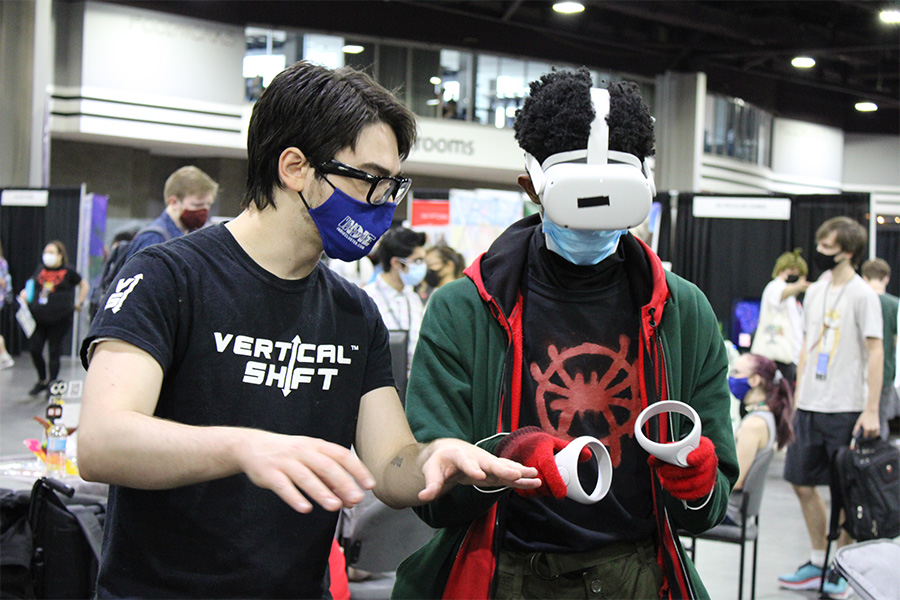 During an entrepreneurship course with Quinet, Feeser met Ben Snowden ('21), a fellow game design student, and together they began working on a virtual reality video game. They recognized they had an opportunity to tap into an emerging market.
"We were already playing with virtual reality while we were in school, so it seemed like a natural fit," Feeser said. "When you look for VR games, you don't have nearly as many to choose from as you do for other types of games and consoles."
After receiving a grant from the Mookerji Innovation Fund, Feeser and Snowden brought
on a team of contractors to polish the basic development of their game, Vertical Shift.
In the game, players fly through dense cityscapes on perilous missions.
Since its first launch in the summer of 2021, Vertical Shift has grown from 20,000 downloads and an average of around five players at any point in a day to 160,000 downloads and about 3,700 daily active users. Feeser says the support from KSU's entrepreneurship center and the Mookerji fund made that possible.
"Mookerji was spectacular in supporting us very early on," Feeser said. "With the help of the grant, we were able to take something that started as a college project and turn it into a full-fledged professional product."
Frustration sparked innovation
Brighton Swales, a mechatronics engineering major who expects to graduate in Spring
2023, was frustrated with the available tops for his Jeep Wrangler. In his opinion,
soft tops let in too much outside noise, while hard tops take too much time to put
on and take off. So, he decided to create a hybrid top he says solves both problems.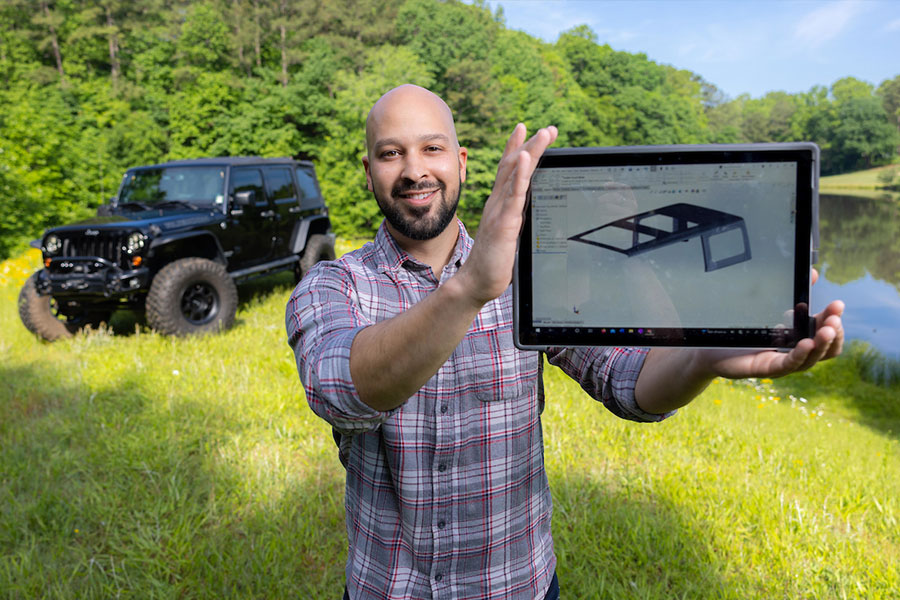 Swales, who enrolled at KSU after eight years in the U.S. Navy, with assistance from
the Shore Entrepreneurship and Innovation Center and the Mookerji Innovation Fund,
created a company called Swales Innovation to develop and market his invention.
"I've had a bunch of ideas throughout my life, but I thought, 'I'm going to run with this one and see where it goes,'" Swales said. 
Swales began developing a prototype Jeep top that would have a hard top exoskeleton with the convenience features of a soft top. Even better, the top's removal will be automated, he said.
Creating that prototype has taken more than two years and is expected to cost around $100,000, and Swales said he's already put about $30,000 of his own money into the work. So, the news that he'd receive $5,000 from the Mookerji Innovation Fund to acquire intellectual property rights for his prototype design was welcome, he said. 
"The Mookerji fund and Shore Entrepreneurship and Innovation Center are some of the best programs that I've heard of for university entrepreneurs," he said. "The feedback and guidance I've received have helped me address unanticipated issues and give me sound advice for resources to use. Plus, I can tell how invested in my success the advisors are."
Swales' prototype is still in development, with a goal to have it installed on his own vehicle this fall. Swales said once he is happy with his prototype, he will look to expand production.
"Our entrepreneurship center offers a place for students from all majors to develop their ideas while receiving support from faculty experts and even funding of student projects," Quinet said. "The entrepreneurship center and KSU have created an environment that is driven to development, funding, and growth of high-potential ventures."
– Thomas Hartwell
Photos by Matt Yung, David Caselli, submitted
Related Stories
A leader in innovative teaching and learning, Kennesaw State University offers undergraduate, graduate and doctoral degrees to its nearly 43,000 students. With 11 colleges on two metro Atlanta campuses, Kennesaw State is a member of the University System of Georgia. The university's vibrant campus culture, diverse population, strong global ties and entrepreneurial spirit draw students from throughout the country and the world. Kennesaw State is a Carnegie-designated doctoral research institution (R2), placing it among an elite group of only 6 percent of U.S. colleges and universities with an R1 or R2 status. For more information, visit kennesaw.edu.