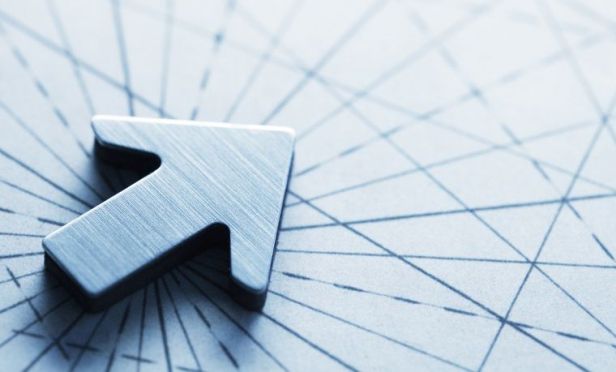 The property & casualty insurance agent/broker segment gained 4,300 jobs in May 2018 over May 2017 (up 0.5%), to 809,000, according to data from the U.S. Labor Department Bureau of Labor Statistics and a report from Insurance Information Institute (I.I.I.) Chief Economist Steven Weisbart.
Employment in the general U.S. economy continues to be strong. In May 2018 there were 2.37 million more people employed in the country than a year earlier (+1.6%) — an unusually strong increase this late in the business cycle. In the service-sector overall, employment was up by 1.4%, year-over-year in May 2018.
As for the insurance industry, on a year-over-year basis, employment changes in most major segments of the insurance industry were mixed.
P&C carrier employment fell slightly
For the 12 months ending May 2018, P&C insurance carrier employment fell by 2,200 (-0.4%) to 551,600. Taking a slightly longer perspective, employment in the P&C sector has stayed in a small range of 549,000 to 560,000 for the past 28 months.
Related: Survey predicts record hiring in insurance during 2018
The last major reclassification of subsectors took place in 2005. In March 2005 P&C employment was measured at 547,000. Since then it sank to a low of 513,500 in January 2014, but grew strongly in 2015 (up 30,500 for that year, or +5.9%).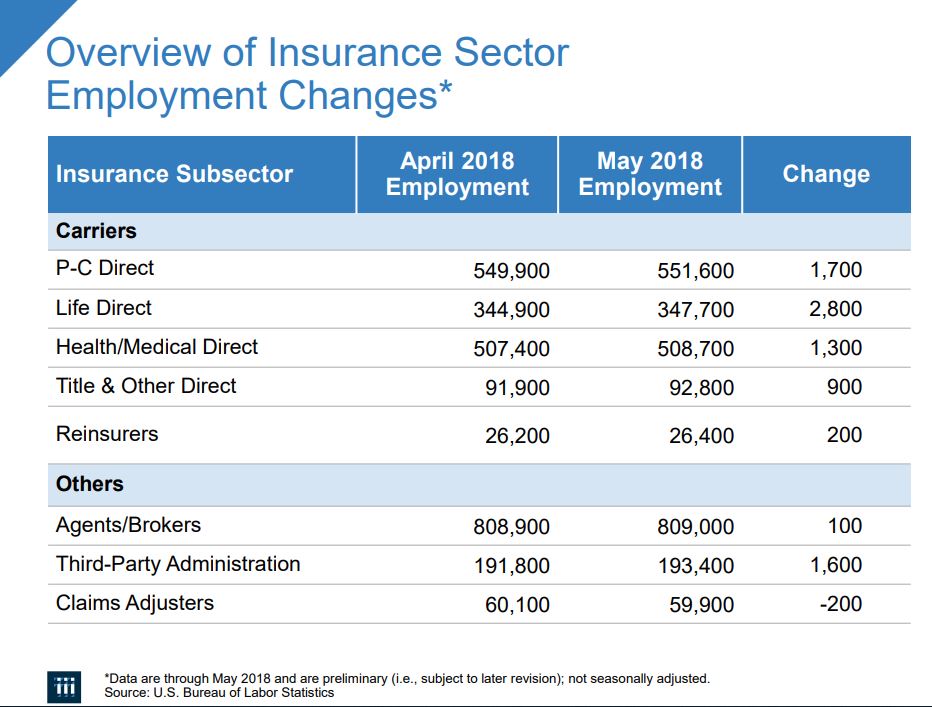 Agent/broker job growth highly variable
The insurance agent/broker segment gained 4,300 jobs in May 2018 over May 2017 (up 0.5%), to 809,000. Employment growth in this category in 2018 was highly variable. It dropped in January 2018 (down 4,700), but mostly regained that loss in February (up 4,000). It then dropped again in March (down 800), rose again in April (up 1,000), and was essentially flat in May (up 100).
This continued a pattern from the end of 2017 (down 400 in November, up 500 in December). Employment totals in this subsector have stayed in the 800,000 to 810,000 range for 16 months (since February 2017).
Reinsurance, adjusters & 3rd party administration
Among the smaller industry segments, reinsurance carrier employment in the U.S. was up by 600 in May 2018 vs. May 2017, climbing to 26,400.
Employment at independent claims-adjusting firms on a year-over-year basis for May 2018 rose by 200 to 59,900.
Year-over-year employment in the category of third-party administration of insurance funds rose by 4,900 (2.6%) to 193,400. This category has grown quite steadily for more than two decades, though not as fast as employment at medical expense insurers. It was set back slightly by the Great Recession, but has generally added jobs since then. It's currently at an all-time peak.
Life/annuity & health carriers
Employment by life/annuity carriers was basically flat in May 2018 vs. May 2017 (down 200, or -0.1%) to 347,700. Employment in this segment has fallen or was flat in nine of the last 13 months. Even so, it has remained in the range of 345,000 to 350,000 for 28 consecutive months.
For the 12 months ending in May 2018, health carrier employment rose by 12,300 (+2.3%) to 508,700. The health carrier segment had been gaining jobs quite steadily for decades. However, the health carrier sector had a major reclassification beginning in March 2015, which reset the sector's employment from 517,900 in March 2015 to 457,200 in March 2016. Since then, employment in this sector has risen by 51,500 or +11.2%.
Editor's note: Data for the last few months are preliminary and are often revised later, but revisions are usually small.
Related: Study signals hope for the insurance industry labor market